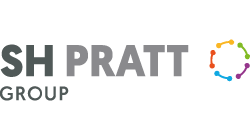 Project
Ripening Rooms and retrofits
Advanced Ripening Technologies Ltd (ART) started working with the SH Pratt Group in july 2016 with the installation of 10No, 36 pallet three tier ripening rooms carried out over a strict 12 week programme.
Features of these rooms included –
Stainless Steel evaporator coils

EPIV control valves with flow monitoring on the smart control system

EC reversible fans with speed control based on product temperature/cooling coil temperature difference

Smart control system with easy remote access, informative alarm notification and energy analysis reporting
Since 2016 we have continued to expand arguably the largest ripening centre in Europe and more recently installed a new 550kW Azane air cooled low charge ammonia chiller, manufactured by Star Refrigeration of Glasgow.
ART continues to provide support and has been involved in retrofitting older rooms to replace existing control system, old control valves and damaged pallet seals with new silicone food safe rubber baffles.
Discuss the project you've got in mind
We are specialists in the design and build of pressurised tropical fruit ripening systems. If you need a bespoke tropical fruit ripening solution, we'd love to hear from you.